On Monday mornings the K-3s enjoy reading books together.  We can read the pictures or the words and we remember to sit elbow to elbow and knee to knee so both partners can see the pictures.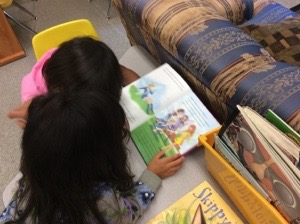 Here are some of our favourite books:
Mya-My favourite book in the entire world is Charlie and the Chocolate Factory!
Caleb-My favourite book is Marvel Super Heroes because it has Spiderman in it.
Kaleigh-My favourite, favourite book is Frozen.
Joey-The Book with No Pictures is really, really funny!
Storm-I love to read with friends.  I like the Rainbow Fairy book.
Star-My favourite book is Cinderella.
Eli-My favourite book is Star Wars.
Alexandra-My favourite book in the whole entire world is La La Loopsy.
Cherish-My favourite book is Puppy Place because my favourite animal is in it.
Mackenzie-My favourite is the dolphin book I was reading today.  The dolphins save people and it is kind of a challenge.
Owen-Magic Treehouse is my favourite because Dad and I read it at home.  It is the desert one.
Hilary-My favourite is the book about dogs.
Sierra-I like Curious George.  I really like that one!
What is your favourite book?